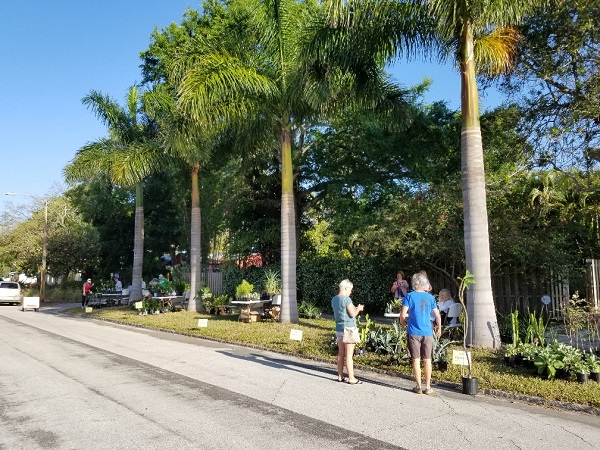 A big thank you to Frances Gatz and Roger Telschow who organized and hosted the first-ever Old Southeast Plant Sale in early April 2021.  The generous duo donated over 200 potted plants, and they welcomed other plant lovers throughout Old Southeast to do the same, as they shared that all proceeds from the sale would benefit the Old Southeast Neighborhood Association. 
The Plant Sale featured succulents, gardenias, and a wide variety of other plants; but the star of the show were the milkweeds.   Frances & Roger's interest in milkweeds began when they discovered that many Monarch caterpillars were disappearing. By propagating milkweed, and collecting and protecting the caterpillars, they were able to release over 100 butterflies in 2021.  Witnessing their quest to save these beautiful creatures was inspiring to us all.
Several plant varieties sold out early on as visitors poured into the Old Southeast Neighborhood from all over St. Petersburg and surrounding areas.  Within just a few short hours, hundreds of plants were on their way to a new home.  
Frances and Roger donated all proceeds from the Plant Sale to the Old Southeast Neighborhood Association, and that generous donation was used to make the development of this website possible.  OSNA would like to thank them for graciously sharing their time, talent, and treasures with the Old Southeast Neighborhood.
Landscaping Restoration
Back in 1993 the City Council adopted the Old Southeast Neighborhood Plan for OSE as part of The Neighborhood Planning Program -- a collaborative process between the City and the residents and the businesses that live and work in the neighborhoods.  Part of this Plan dealt with a detailed landscaping plan for the bypass road, in particular the cul-de-sacs and street diversions that the corridor created. The Plan was "reimagined" in 2013 with recommendations that the landscaping project implemented with the help of City grants be improved by the addition of shade trees in. the rights-of-way and additional landscape plantings at the cul-de-sacs along the bypass road.
Another nine years on and the landscaped areas – 18th Ave S and 2nd Street S, 16th Ave S and 1st Street S, 16th Ave S and Bay Street SE, and 15th Ave SE and Beach Drive SE – are in need of restoration.  OSNA identified the plants needed, estimated volunteer effort required and applied to the City for a grant to support the effort.
Once the financial resources are identified for the new plantings, we will be looking for volunteers to help clear the areas of weeds and old plants, mulch and install new plants.