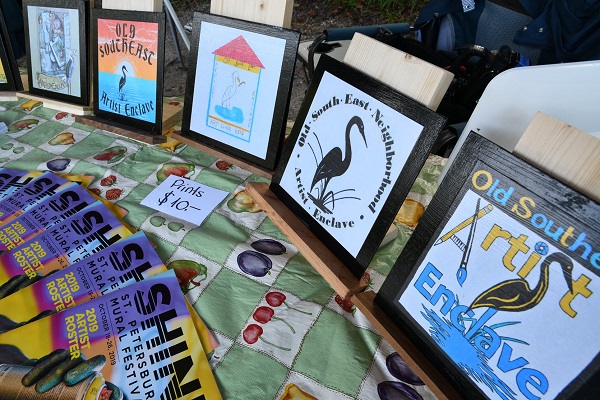 What is an Artist Enclave?
The Old Southeast Neighborhood is proud to be a designated Artist Enclave Overlay District. Overwhelmingly supported by Old Southeast residents in a 2013 vote, Artist Enclave designation was granted by the City of St. Petersburg in 2014.  This special designation permits Old Southeast artists to enrich our neighborhood by using their residences as work studios, artist lofts, galleries, and instructional spaces.  Thus, artists may live, create work, and market their art from home. The Old Southeast is one of only two St. Petersburg neighborhoods with an Artist Enclave designation (Historic Kenwood is the other).  
If you are an artist in any of the following categories, please email This email address is being protected from spambots. You need JavaScript enabled to view it. to share your name, contact info, and talent: 
Visual Arts (painters, print makers, drawers, sculptors, potters, jewelry makers, glass makers, craft artists, and photographers)
Performing Arts (musicians, composers, playwrights, choreographers, and dancers)
Literary Arts (creative writers and literary translators)
Architecture and Design (architects, landscape architects, engineers, urban designers and planners, interior designers and decorators, industrial designers, graphic designers, and fashion designers)
Media arts (filmmakers, video and audio artists, and web-based designers)
Make sure to keep an eye out for events hosted by Artists in the Old Southeast Artist Enclave. Better yet, subscribe to the OSE newsletter.
Artist Enclave Studio Tour
On Saturday, October, 22, 2022, OSNA will be sponsoring the Old Southeast Artist Enclave Tour from 10am-4pm!  Come see why the City of St. Petersburg named our Old Southeast neighborhood an official Artist Enclave where artists can create and market their arts or crafts! 
Join other Old Southeast neighbors - and art lovers from all across the bay - for this exciting event!  The tour is self-guided, and there is no fee.  Pick up your map on the day of the event at the information tent in The Chattaway parking lot.  Maps will also be available at each studio participating in the tour. 
There will be over a dozen Old Southeast artists exhibiting in their studios and residences.  Painters, potters, print makers, sculptors, wood turners…there will even be a candle maker!  Just follow the Artist Enclave logo signs (found at the entrance of each artist's site) and enjoy the creativity of our talented Old Southeast artists.